nimm2 – Vitamins and Sweets
Always popular
nimm2 has been popular with children and adults alike since 1962, and is one of Germany's best-known brands of hard candy. The brand family is constantly expanding. Consistent with its main promise: "Vitamins and Sweets", the nimm2 range features happy sweet treats.
nimm2 hard candy red fruits
nimm2 Smilegummi Fruit & Yoghurt
nimm2 Smilegummi Apfellinge
nimm2 Smilegummi Milchbubis
nimm2 Smilegummi Milchgeister
nimm2 Smilegummi Softies Fruit Mix
nimm2 Smilegummi Softies Red Fruits
nimm2 Smilegummi Softies Yoghurt
nimm2 Smilegummi Frutivity Yoghurt
nimm2 Smilegummi Märchenprinzen
nimm2 Smilegummi Millianer
nimm2 Smilegummi SauerStars
nimm2 Smilegummi Gartenzwerge
nimm2 Smilegummi Mümmelbande
nimm2 Smilegummi Fluffies
nimm2 Smilegummi ColaBuddies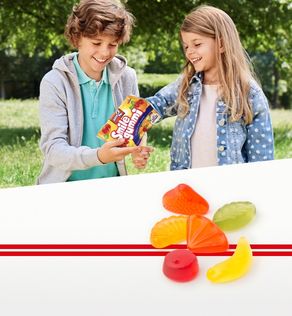 "Vitamins and Sweets" – nimm2 meets consumer expectations since 1962. The story of a successful concept.
Still successful today
A wide range of products
Today there are many more varieties today besides the classic fruit-flavoured candies and nimm2 Smilegummi – all with the best of nimm2. Whether nimm2 Soft, nimm2 Lollies or the nimm2 Smilegummis AppleBuddies and Shakies: the range includes something for everyone.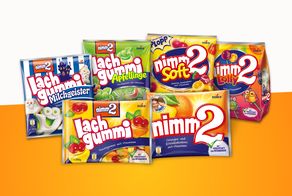 2023
nimm2 Smilegummi Cola Buddies and Fluffies
Cola-funny and super fluffy - Cola Buddies and Fluffies extend the nimm2 Smilegummi family. The two newcomers with six fruity flavours provide even more munching fun for the entire family.
2022
Heard of it?
Never seen before - vegetable juice in Smilegummi! The nimm2 Veggie-family gets two special additions: nimm2 Smilegummi Mümmelbande & Gartenzwerge. For the first time in the history of nimm2 Smilegummi, vegetable juice, fruit juice and vitamins are added to the fruit gum.
2021
nimm2 Red Fruits
Delicious candy fun in two fruity flavours for the whole family: After almost 60 years, there is news from the candy world! After the deliciously filled nimm2 Red Fruits candies were previously available as a limited edition, they are now permanently available in store. With their intense flavour of currant and cherry, they are the perfect addition to the well-known classic from nimm2 and convince as usual with their delicious filling, fruit juice and vitamins.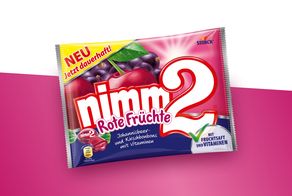 2021
Veggie nibbling fun
Small but wow: The new vegetarian YoBolde and Millianer, as well as the vegan SauerStars, provide even more varied and delicious nibbling fun.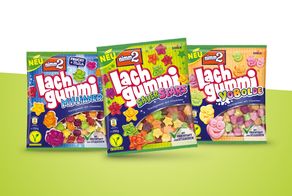 2021
Super looong & super colourfuuul
Really funny, really tasty: The new variety nimm2 Smilegummi FunFari offers happy nibbling fun in a colourful safari-look. The super-long animal figures around alpaca, giraffe & co are available in three double-fruity flavours - ideal for playing and pulling.
2020
nimm2 soft +Cola
The tasty chewing fun with cola flavour celebrates its comeback, now permanently available!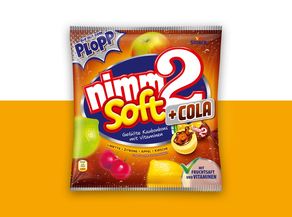 2020
More veggie-fun
The nimm2 Smilegummi family continues to grow in Germany as of June 2020! Four new vegetarian flavours provides a diverse mix - there is something for everyone. Either as soft dino, colourful monkey-gang, small princess or happy milk party – this is the veggie-fun for the whole family.
2019
nimm2 Smilegummi Frutivity
Vegetarian nibbling fun: nimm2 Smilegummi are now also available in Veggie - and with 20 percent fruit juice! Since April 2019, nimm2 fans can look forward to the vegetarian varieties Red Fruits, Yoghurt and Exotic Fruits with Smilegummi Frutivity.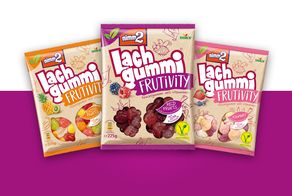 2018
nimm2 Smilegummi Happies
nimm2 Smilegummi Happies are the little ones for big fun. The small, cheeky Happies are perfect for nibbling - for young and old. They come in six delicious, fruity flavours.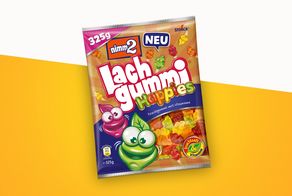 2017
nimm2 Smilegummi Heroes
Real Heroes at hand? Here they are: the nimm2 Smilegummi Heroes! Available in a colorful mix for much nibbling fun and creativity in just one bag! There's something for everyone inside!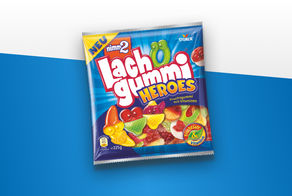 2014
Meet the MilkBuddies!
nimm2 Smilegummi MilkBuddies are fun and cheer you up. The first Smilegummi fruit gums shaped like figures are simply irresistible.
2006
Round and round we go!
nimm2 soft was launched in 2006. The chewy candy with a fruit-flavoured filling with vitamins comes in four tasty varieties and was an immediate success!
1996
A milestone
The fruit gum success story started in 1996. With nimm2 Smilegummi, Storck launched a fruit gum with fruit juice and vitamins. An absolute milestone and a bestseller to this day!
1980
Wise words
"If your child loves nothing better in the world than candy, and you love nothing better in the world than your child, give them nimm2." This TV commercial slogan played no small part in nimm2's amazing success.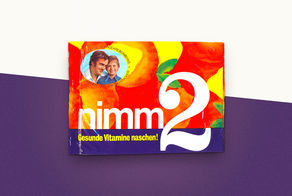 1962
Spectacular innovation
It all began in 1962 with nimm2 fruit candy, which had originally vitamins and a tasty fruit filling. Ever since, the slogan "Vitamins and Sweets" has stood for the successful, unique concept behind this well-established Storck brand - combining a sweet treat with the goodness of nimm2.