merci, for being you.

Thank you means merci.
Finest chocolate, made from selected ingredients and individually wrapped in gold: this is how merci made its way into people's hearts since 1965. Not surprisingly, as merci is the gift to give as a very special thank you. Thank you means merci - merci, for being you.
merci Mousse au Chocolat 210g
merci Tablets Hazelnut-Almond
merci Tablets Coffee & Cream
merci Petits Milk & Cream Collection 125g
merci Petits Coffee & Cream
merci Petits Crunch Collection 200g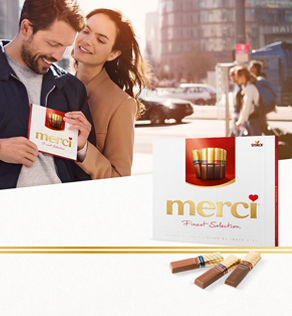 Thank you means merci. Today, in more than 100 countries all over the world, people say thank you with merci.
2019
New collections from merci Petits
Even more colorful variety to offer and share! With a new look and a larger variety of varieties, the three collections from merci Petits offer the special, small chocolate shop moment for every taste.
2018
Mousse oh! Chocolat
Four temptingly filled mousse types wrapped in delicate chocolate. Not only the heart of Mousse fans beats faster with the newest member of the merci Finest Selection family: merci Mousse au Chocolat - the latest chocolate variation is a must for every chocolate connoisseur.
2015
New fine chocolate tablets
merci fine tablets come in 6 delicious varieties. Each pack offers four small chocolate tablets that are individually gold-wrapped and incomparably melt-in-the-mouth: the merci family's latest bestseller.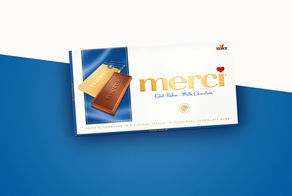 2013
More choice for lovers of crunchy chocolate
Launched in 2013 and an immediate success: the merci Crispy Almond Variety comes in in four popular flavors (Hazelnut-Almond, White Almond Crisp, Almond Honey Crunch and Dark Almond Cream.)
2011
Even more festive
The merci product range has featured innovative seasonal products since 2011: Easter bunnies, Santas and several varieties of delicious Easter eggs and chocolate Christmas balls add even more heartfeltness to the festive season.
1995
Small treats, pure pleasure
The brand family grows once more: since 1995, the popular merci varieties are also available as small treats – initially marketed as merci Pur. The perfect product for treating yourself, offering to guests and sharing with friends.
1994
The brand family grows
The chocolate speciality merci Crocant, merci chocolate with a filling of hazelnut & cream crocant pieces and chopped almonds, was launched in 1994.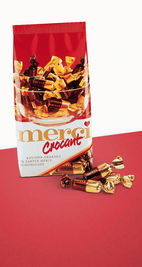 1988
A claim conquers the world
Since 1988 "merci, for being you" is that special way to say thank you.
At this time merci Finest Selection already comes in 8 carefully selected varieties.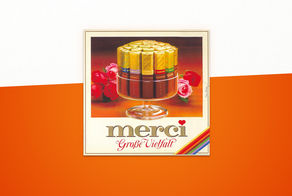 1965
merci from the bottom of my heart
Start of the success story! In 1965, Storck surprised the world with a totally new type of chocolate: a selection of fine chocolate bars, individually wrapped in gold – the ultimate way to say thank you.