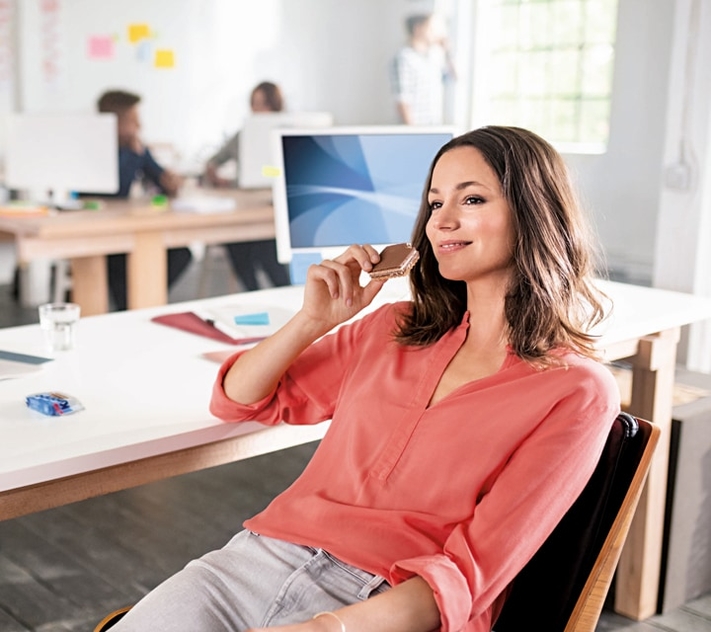 Knoppers
– the tasty in-between snack

The tasty in-between snack
Ever since Knoppers was launched in 1983, the milk-hazelnut wafer has been very popular: crispy baked wafers, delicious milk cream filling, and a tasty hazelnut spread perfected by crunchy pieces of roasted hazelnuts. Whether at work, at school or whilst on the road – take a relaxing break with a crunchy, yummy Knoppers – and sweeten the rest of your day.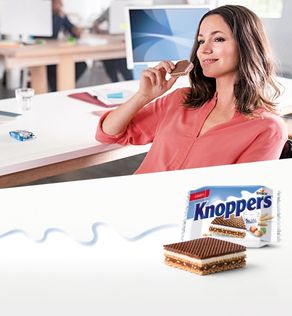 Half past nine in the morning in Germany – and in more than 40 other countries: the Knoppers success story.
2023
What started as a limited edition ...
... is now permanently available: The popular flavours Knoppers Black & White and Knoppers Peanut. They are joined by the brand new Knoppers Yoghurt. The delicious snack trio offers something for every taste - perfect for the typical Knoppers moments!
2020
New products are launched: Knoppers PeanutBar und Knoppers CoconutBar
Good things come in threes. In March 2020, the successful Knoppers NutBar was joined by two new products. The new PeanutBar with peanut spread and crunchy peanuts and the CoconutBar with delicious, creamy coconut spread and delicate coconut flakes offer even more variety for snack time.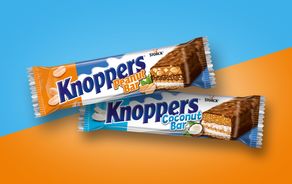 2019
Knoppers Black & White – the autumn edition
In autumn 2019, Knoppers introduces the limited-edition Knoppers Black & White. The well-known Knoppers ingredients are combined with delicious crispy biscuit pieces and dark cocoa wafers.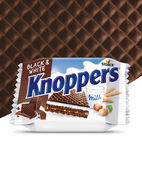 2018
Knoppers Coconut – the Summer Edition by Knoppers
After the limited edition Knoppers Strawberry Yoghurt, Knoppers is adding a summer variety to their portfolio in 2018. The Knoppers Summer Edition combines the paradisaically delicious taste of coconut with the classical Knoppers ingredients.
2017
The new Knoppers NutBar – the first bar in true Knoppers style
New tasty additions to the Knoppers family. Since August 2017, the first snack bar in true Knoppers style is available - a refreshing pick-me-up to sweeten your afternoon. The new Knoppers NutBar combines the popular Knoppers flavour with an extra portion of hazelnuts, chocolate and caramel.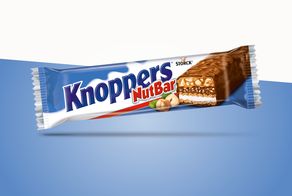 2015
Knoppers Strawberry Yoghurt: the ideal in-between snack for the summer
For the first time since the product was launched in 1983, the product range is extended by a limited edition: Knoppers Strawberry Yoghurt. The fruity, refreshing taste of strawberries and yoghurt, combined with the classical Knoppers ingredients, creates summery moments of pure enjoyment!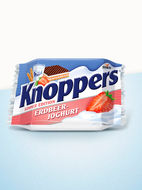 2013
30 years of Knoppers – worldwide success
Knoppers has been around for 30 years and is also becoming increasingly popular internationally. The tasty milk–hazelnut wafer is now available in more than 40 countries.
In addition, "Knoppers minis", a smaller version in a bag for sharing and offering, was launched in 2004.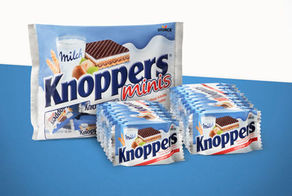 1983
Knoppers conquers Germany
Knoppers – the crispy, tasty milk-hazelnut wafer, was created in 1983. Shortly afterwards, the catchy slogan "Half past nine in the morning all over Germany..." helped to make Knoppers extremely popular.